*Updated post- if you do this the balance transfer for zero interest do not pay for your charges early. You get penalized for it because they won't apply it to your charges, but rather the balance transfer so then they can charge you interest. I like to use the card for the points and then immediately pay that amount so there is no interest, but do not do that! They will apply that payment towards your balance transfer rather than your purchases and then they will charge you interest. I am so mad about this. I will not being using this card again. *
The old saying is proven wrong with the Disney credit card. Being the frugal ninja that I am, I always look for ways to save or make money. I found this offer that seemed too good to be true.
If you get a Disney/Chase visa card, you get a $50 gift card for adding someone to your account and another $250 gift card if you charge $500 in the first 3 months. They also offered no interest for a year for balance transfers. Just a disclaimer that this offer may not be valid for everyone so check first.
My husband got the Disney card and added me to the account so we earned the $50 gift card right away. Then we transferred our balances from our other cards. No more interest charges for a year. Then we used the card to pay for every purchase. Didn't take long to spend the $500. I talked to Chase today and they sent notice to Disney to send me my gift cards. We should have them in a week or less. Super easy! $250 free to spend at Disney. And the cards are super cute.
But wait, there's more! We got an offer from Chase bank directly for $300 if we opened a checking account. We had been looking to leave our credit union because the nearest branch was too far away. Chase is in walking distance from our house. So, we jumped on it, opened the account, and have already been credited the $300.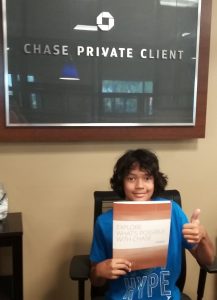 We learned that they have teenager accounts that allows teens to have their own account and debit card. They can't withdraw more than they have in the bank. It is a great way to teach them responsibility. My son turned thirteen on the 30th. He was so excited to open his own account and get his card. Since cash seems to burn a hole in his pocket, we are hoping he might save more if he just has the card.These savings are all going towards our trip. We are so excited. For more information,click this link.
I am not affiliated in any way and don't get anything at all for the referral. I am just spreading the word to my little ninjas on how to save some dough.
UPDATE: Holy moly! We already got our gift cards in the mail! I think I requested them Thursday or Friday night and they are here on Monday. Super fast service Disney!
Related posts: